The Founders Constructed our Government to Foster Inaction, The Washington Post October 28, 2021
There are actually four institutional "veto players" in the Constitution, the House, Senate, presidency and the U.S. Supreme Court, all designed to put institutional brakes on the popular will. Inaction is the rule, not the exception — something the two party system has exacerbated.
Democracy was a dirty word at the Constitutional Convention in 1787. Alexander Hamilton said that the people were "turbulent and changing" and thus concluded that "they seldom judge or determine right." Even his rival Thomas Jefferson didn't trust common men, especially debtors and urban workers, whom he wrote were "the instruments by which the liberties of a country are generally overturned." And so believing liberty to be synonymous with property ownership, the Constitution's framers collectively decided that protecting property rights — specifically enslaved property — was more important than making the legislative process responsive to the people. More here.
---
Colleges Confront their Links to Slavery and Wrestle with How to Atone for Past Sins, The Conversation March 1, 2021.
Colleges and universities across the U.S. have been taking a hard look at their ties to slavery. This isn't an entirely new phenomenon. Back in 2006, Brown University published a report showing that the university – from its construction to its endowment – participated in and benefited from the slave trade and slavery. And since then, several other colleges and universities have disclosed their ties to the use of slave labor. More here.
---
Capitalism, Slavery, and Economic White Supremacy, The Economic Historian October 19, 2020.
What is at stake when we talk about the economics of North American slavery? Over the last 75+ years it has been whether capitalism superseded slavery or whether capitalism and slavery were co-constituted, capitalism to some extent relying on slavery.
Part of that discussion has been theoretical and part hinges on whether the exploitation of African-descended Americans is an incidental or an essential part of the economies of English and British North America and the United States over the last four centuries. More here.
---
Packing the Court: Amid national crises, Lincoln and his Republicans remade the Supreme Court to fit their agenda, The Conversation October 12, 2020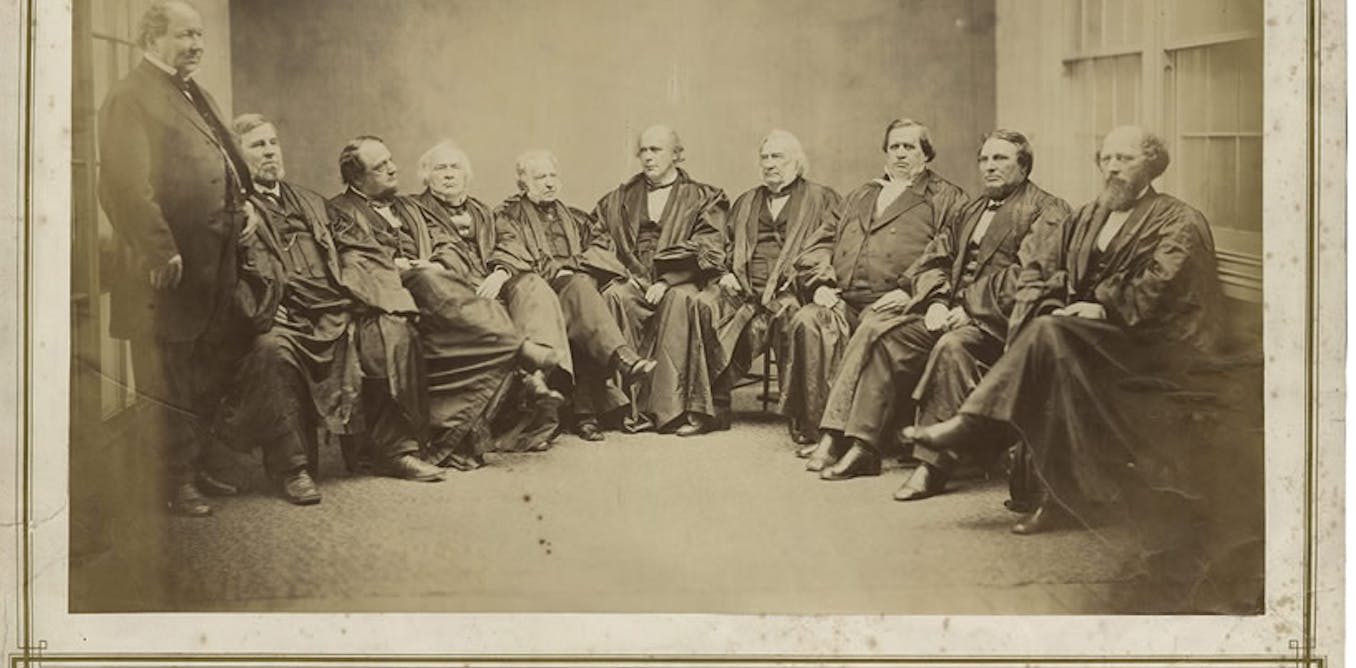 As a political battle over the Supreme Court's direction rages in Washington with President Donald Trump's nomination of Amy Coney Barrett, history shows that political contests over the ideological slant of the Court are nothing new. More here.
---
Contested elections can unleash violent white supremacy. We have seen it before, The Washington Post September 28, 2020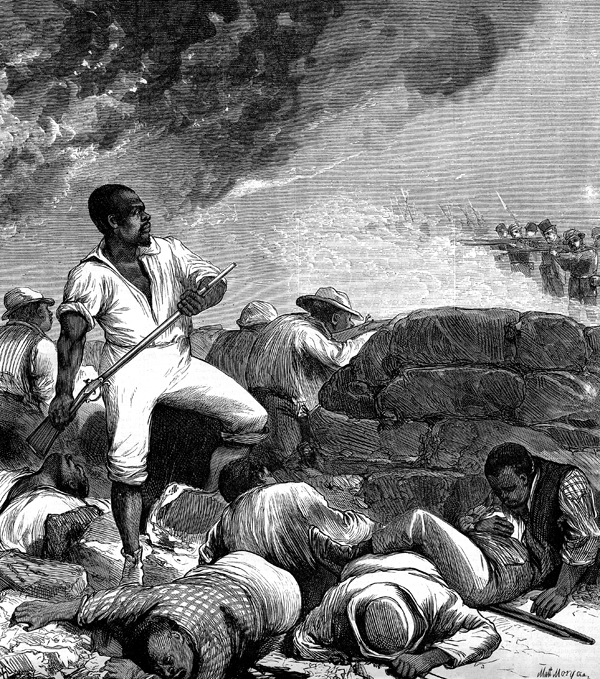 The result could be a surge in violent white supremacy, designed to bolster Trump and extend his time in office. It has happened before in American history during the contested 1872 Louisiana gubernatorial election, between Conservative party candidate, ex-Confederate battalion commander John McEnery and Republican William Pitt Kellogg. More here.
---
"1864 elections went on during the Civil War – even though Lincoln thought it would be a disaster for himself and the Republican Party," The Conversation August 6, 2020
Abraham Lincoln understood that the war for the Union was about the integrity of a constitutional republic, not the president or the party.  It was about "a new birth of freedom" and not about him. And that meant his victory in the election was less important to him than the fate of the entire country. 
Lincoln, who would go on to win, assured those critics, "We cannot have free government without elections; and if the rebellion could force us to forego, or postpone a national election it might fairly claim to have already conquered and ruined us." More here.
---
"Let Us Now Remove Famous Men," History News Network, July 26, 2020
I passed the statue of Robert E. Lee in Charlottesville, Virginia literally hundreds of times, often admiring the handsome appearance of a general who was proud in defeat, leaving the battlefield with honor intact. The bronze Lee sits ramrod straight in the saddle of his warhorse Traveller, hat clutched in his right hand, atop a sturdy gray stone pillar.
In all seasons, whether sprinkled with snow or glowing in a fall sunset, it seldom occurred to me—whose ancestors wore blue and gray—that this statue was a symbol of white supremacy. That's not because the message was hidden. It was because I was unaware of my own white privilege, which permitted me to view it in terms other than as a potent symbol of white over Black. More here.
---
"Black Americans, Crucial Workers in Crises, Emerge Worse Off – Not Better," The Conversation June 17, 2020
African Americans have always been essential workers. But serving in crucial roles has not resulted in economic equality. Government responses to economic crises have historically set black Americans back relative to whites, stripping black wealth and setting new and stronger barriers in paths to success – even in times of national economic growth. More here
---
"How America was built on slavery: Those roots can still be felt today," ASU's Thought Huddle with Mary-Charlotte Domondi, June 19, 2020
American capitalism was built on the backs of enslaved people and the slave economy — and not just in the South. Some of these practices are still within us. Racial inequity was part of the country's DNA in the colonial era, and inequality was replicated throughout the nation's history.  Listen to the podcast here.
---
The Impossible Story of African Pioneers in Colonial America: On the 400th Anniversary of the Arrival of the First Africans in Virginia, TV interview with Ted Simons on PBS' Arizona Horizon September 11, 2019.


---
"Why the Racial Wealth Gap Persists, more than 150 Years after Emancipation," The Washington Post, June 19, 2019.
When one system of economic oppression collapsed, new ones were created to fill the void.
Juneteenth — Emancipation Day 1865 — was supposed to start a new era of black wealth creation. After 12 generations of being subject to slavery's institutionalized theft, 4 million African Americans were now free to earn incomes and degrees, hold property, weather hard times and pass down wealth to the next generation. They would surely scramble up the economic ladder, if not in one generation then in a few.
Eight generations later, the racial wealth gap is both yawning and growing. The typical black family has just 1/10th the wealth of the typical white one. In 1863, black Americans owned one-half of 1 percent of the national wealth. Today it's just over 1.5 percent for roughly the same percentage of the overall population. The cause of that stagnation has largely been invisible, hidden by the assumption of progress after the end of slavery and the achievements of civil rights. But for every gain black Americans made, people in power created new bundles of discrimination, largely hidden from sight, that thwarted, again and again, the economic promise of emancipation. More here.
---
"On the Supreme Court, difficult nominations have led to historical injustices," The Conversation, September 28, 2018.

Far from being unusual, the hurried and partisan Supreme Court confirmation process for Brett Kavanaugh mirrors several notable examples of similarly politicized confirmations in U.S. history.
Those conflicts, which ultimately placed justices on the court, yielded some of the most damaging civil rights decisions in our nation's history.
Unlike any other branch of government, Supreme Court justices do not have to face voters at the polls. They have no term limits. Yet the high court is the final arbiter of constitutional rights and protections.
Controversial appointees who were rammed through hearings, or political careerists nominated for strategic reasons and confirmed despite scant vetting, handed down decisions that expanded slavery and rolled back civil rights. More here.
---
"Prisoner Strike Exposes an Age Old American Reliance on Forced Labor," The Conversation, August 31, 2018

Prisoners in 17 states and several Canadian provinces are on strike in protest of prison labor conditions. Their demonstrations are compelling Americans to understand that some everyday foods are produced behind bars, for cents on the hour, in a system many call "modern slavery." Prisoners in the U.S. harvest and process eggs, orange juice, ground beef and fish. They also staff call centers, fight wildfires and make sugar.
For this work, they receive, on average, 86 cents a day, according to the Prison Policy Initiative, an advocacy group. Some formerly incarcerated people disagree with the comparison of prison work to slavery, saying that prison jobs teach real skills that may reduce recidivism. But the prisoners' strike, underway since Aug. 21, shines a light on a troubling American habit of consuming, often thoughtlessly, the products of forced labor. Read more here.
Image: African American prisoners at the Mississippi State Penitentiary, or Parchman Farm, 1911.
---
"Racial Divides Have Been Holding American Workers Back For More Than a Century," Washington Post December 15, 2017.
One hundred thirty years ago, white vigilantes shot some sixty African American farm workers dead in Thibodaux, Louisiana.
In targeting black sugar workers, gunmen were also targeting their union. It was a pivotal time for labor in the United States. Workers did not have a right to unionize, and strikers often risked their lives. But the events of November 23, 1887 showed how racism undermined class solidarity and the potential of the American labor movement. The explosive issues in Thibodaux are still stirring politics today. Read more here.
---
"The Thibodaux Massacre Left 60 African-Americans Dead and Spelled the End of Unionized Farm Labor in the South for Decades," Smithsonian.com November 21, 2017.
On November 23, 1887, a mass shooting of African-American farm workers in Louisiana left some 60 dead. Bodies were dumped in unmarked graves while the white press cheered a victory against a fledgling black union. It was one of the bloodiest days in United States labor history, and while statues went up and public places were named for some of those involved, there is no marker of the Thibodaux Massacre.
Days after, a local planter widow Mary Pugh wrote, "I think this will settle the question of who is to rule the nigger or the white man for the next fifty years." It was a far-sighted comment— black farm workers in the South wouldn't have the opportunity to unionize for generations. Read more here.
---
"How Abolitionists Fought—and Lost—the Battle with America's Sweet Tooth," Zócalo Public Square, March 10, 2017.
Today, land developer and businessman William Cooper is best known for founding Cooperstown, New York, home of the Baseball Hall of Fame. But back in the 1790s, Cooper was a judge and a congressman who used his power to market a different sort of pleasure—American-made maple syrup—as an ethical homegrown alternative to molasses made from cane sugar, which was at that time farmed by slaves. He took tours of the Eastern Seaboard, extolling the virtues of "free sugar," as he called it. Maple sugar never really took off as a sugar substitute, but Cooper's advocacy made it a favorite of abolitionists, eager to improve society through virtuous goods.
It sounds distinctively modern—fair trade, sustainably sourced, slave free—all familiar touchstones of ethical capitalism in America today. To many of us, morning coffee just seems more enjoyable when the worker picking the beans earns a living wage; a shrimp cocktail, more palatable when it is not processed by children forced to toil in peeling sheds. When trendy apparel is impossibly cheap, and likely the handiwork of exploited laborers, the conscientious consumer seeks an alternative. Read more here.
---
"Sugar's Bitter History," We're History February 14, 2017.
Sugar is truly bittersweet. We know about the sweet: cane sugar and cane syrup, confectioner's powder, and molasses have flavored our food for hundreds of years. But the bitter is less known: sugar is the legacy of tens of thousands of slave ships carrying millions of captive Africans to the New World where the survivors and their descendants grew, cut, crushed, and processed a deadly harvest. Sugar, and the slave system that produced it, worked its way deep into world history. America was no exception. In the United States, the expensive but highly profitable sugar industry shaped systems of labor and capital from the early days of slavery, though Reconstruction, and into the present.
Sugar production migrated from the West Indies to southern Louisiana during the Haitian Revolution. Sugar was already the great engine of the trans-Atlantic slave trade when British and French enslavers forced African captives to grow, harvest, and process sugar. The British took over Barbados followed by St. Kitts, Nevis, Antigua, St. Vincent, Granada, and Jamaica. France colonized Guadalupe and Martinique, and by the 1740s Saint Domingue–present-day Haiti–was the jewel in its colonial crown. Read more here.
---
"When 'Taking Our Country Back' Led to a Massacre," The Daily Beast July 29, 2016
On July 30, 1866, "taking our country back" left our country bloodied and scarred in a now-forgotten event called the New Orleans Massacre.
One of Reconstruction's deadliest days started over the refusal to accept civil rights as a verdict of the Civil War and, more broadly, because whites left behind tried to turn back the clock with violence. The New Orleans Massacre left 48 men dead and over 200 injured, nearly all African Americans. The massacre was naked political violence, organized beforehand, and directed at black delegates to the Louisiana constitutional convention of 1866. Attackers included policemen led by ex-Confederate Mayor John T. Monroe.
On a hot summer day, a gathering of over 200 African American New Orleanians marched to the Mechanic's Institute (now the Roosevelt Hotel on Canal Street and Roosevelt Way) where 30 of them planned to take part in drafting a new state constitution that included the right to vote for all men.
Vowing to preserve law and order, Monroe directed police to block Canal Street. A scuffle broke out nearby, a black man was shot, and black veterans and police rushed to the scene. African American delegates pressed on to the Institute. Inside, Louisiana's Republican Governor James Madison Wells and other delegates were preparing to surrender peaceably should the disruption continue.
But police opened fire instead. Read more here.
---
"Civil-Rights Laws Don't Always Stop Racism," The Atlantic May 8, 2016
Exactly 150 years ago this month, three days of riots in Memphis, Tennessee, left nearly 50 dead, scores more injured, over 90 buildings wrecked, and black residents scattered and terrified. The unrest started with a rumor of black-on-white crime: Black soldiers stationed at Fort Pickering on the city's south bluffs had allegedly killed white policemen attempting to arrest an African American soldier. Less than a month earlier, the United States Congress had passed the Civil Rights Act of 1866, ostensibly guaranteeing citizens equal protection under the law and outlawing race-based discrimination.
The Memphis Massacre, as the event came to be known, shows how lack of federal oversight and enforcement can make a mockery of even the most robust civil-rights laws. Former Confederates could murder, rob, and rape African Americans with impunity. Although much has changed since the end of the Civil War, the fact remains that political violence undermines the democratic process even where civil-rights protections are supposedly in place. Read more here.
---
"The Not-So-Lost Cause," We're History, December 18, 2015.
Black freedom took four years of civil war and 750,000 deaths to win but was nearly lost before it was even constitutionally enshrined.
The Thirteenth Amendment abolishing slavery was ratified 150 years ago and proclaimed on December 18. But between passage in January 1865 and ratification ten months later, the seeming imperative to have black people in the South producing cotton again led white northerners to turn away from bringing slavery to a true end, the amendment notwithstanding. And that was an opening ex-Confederates seized, taking by foul means what they had failed to win on the battlefield. Reconstruction's fatal flaw in 1865 was in sacrificing victory for the sake of economic recovery. More here.
---
"What Else You Should Know about Baltimore," Time, May 31, 2015.
Recent Baltimore protests over the police homicide of Freddie Gray were about much more than the killing of a young black man. The legacy of slavery is deep in a city many consider to be outside the South. "The Monumental City" as it was known in the 1820s was at the headwaters of American human trafficking. That traffic's structural violence turned African American sons and daughters, wives and fathers into human products. One in seven enslaved African Americans was forced across state lines in the following decade. In Baltimore black people were jailed, sold, and shipped in the bellies of merchant vessels. Most were stolen from families by slave traders. Austin Woolfolk was a mastermind of the market.
Just nineteen when he arrived in Baltimore in 1815, the tall, athletic slave trader operated out of city taverns, handing banknotes to slaveholders thirsty for liquid assets. Woolfolk came up in Tennessee, served in that state's militia during the War of 1812 and participated in the Battle of New Orleans. There he saw the fortunes to be made on the backs of African-descended countrymen.
---
"Intertwined Trades in Sugar, Slavery," The Virginian-Pilot, March 18, 2015.
The sugar industry's bitter history includes a chapter in Norfolk.
American sugar's growth in the 1830s was a potent mix of high finance, government support, and slave labor. More here.